Joining Ginny, over at
small things
, again with yarn along. A single photo of a current knitting or crocheting project with a current read. I am really loving these posts, taking a moment to think about what and why I'm knitting or reading. I read...a lot. And I knit...not as much as I'd like but I do have 2-4 projects going either on the needles or in my brain.
I do love seeing what others are knitting and can always use some reading suggestions! Leave a comment so I can see what you're up to. And go over to
Ginny's
to see what others are up to.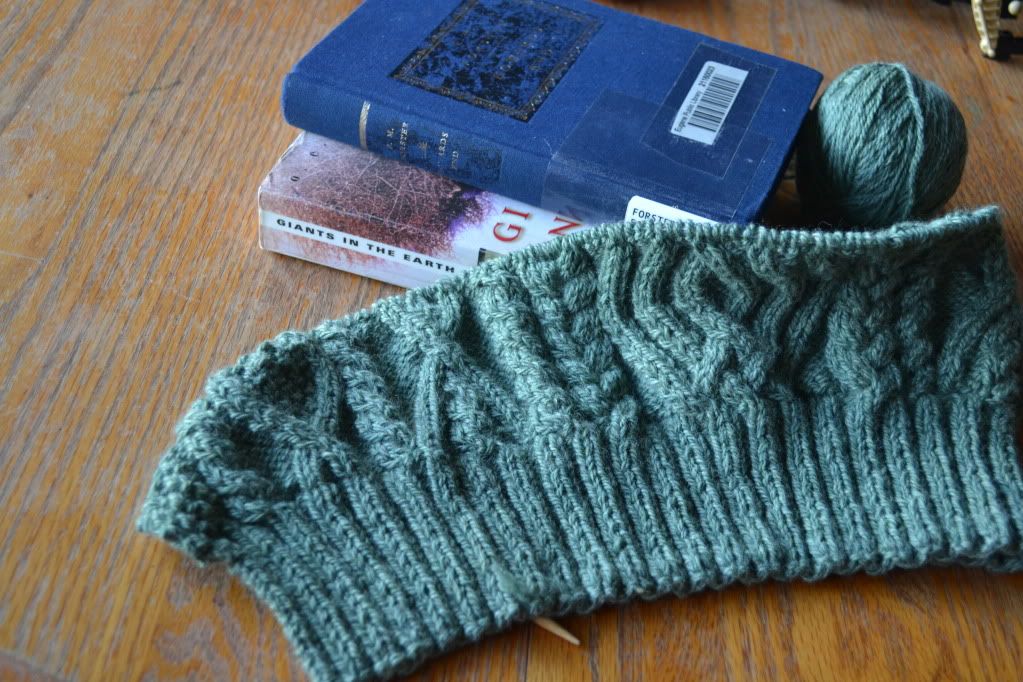 On the needles :: Well, Mr. Wiedz's sweater is still on the needles after a brief time off the needles. After reading
Ginny's yarn along from last week
where she mentioned that shortly after the picture of her beautiful lace panel sweater was taken she undid it all to work it on different needles. That got me thinking. Mr. Wiedz's sweater was not completely correct. The pattern was written to be worked flat but since I don't like working flat I did it in the round. And there were mistakes. First just one or two but then there were more. And I started wondering about splitting for the collar and doing the sleeves, with the pattern written flat I wasn't sure how I was going to fudge along at those points. With all of these issues mounting, I had taken to just not working on it. But after reading Ginny's tear out story I decided to bite the bullet. I'm so glad I did. It is going so much better! The pattern is working so nicely. It is easier to keep track of where I'm at. It's going faster. It is still not likely to be finished for fishing season but progress!
On the nightstand :: Even with that whole stack of books I've not really hit a huge reading vibe. I've started both
Giants of the Earth
and
Howard's End
. I think I'll settle on Howard's End first, taking it camping this weekend so I'm bound to get some reading in, right?