Joining
Ginny
today with another Yarn Along post.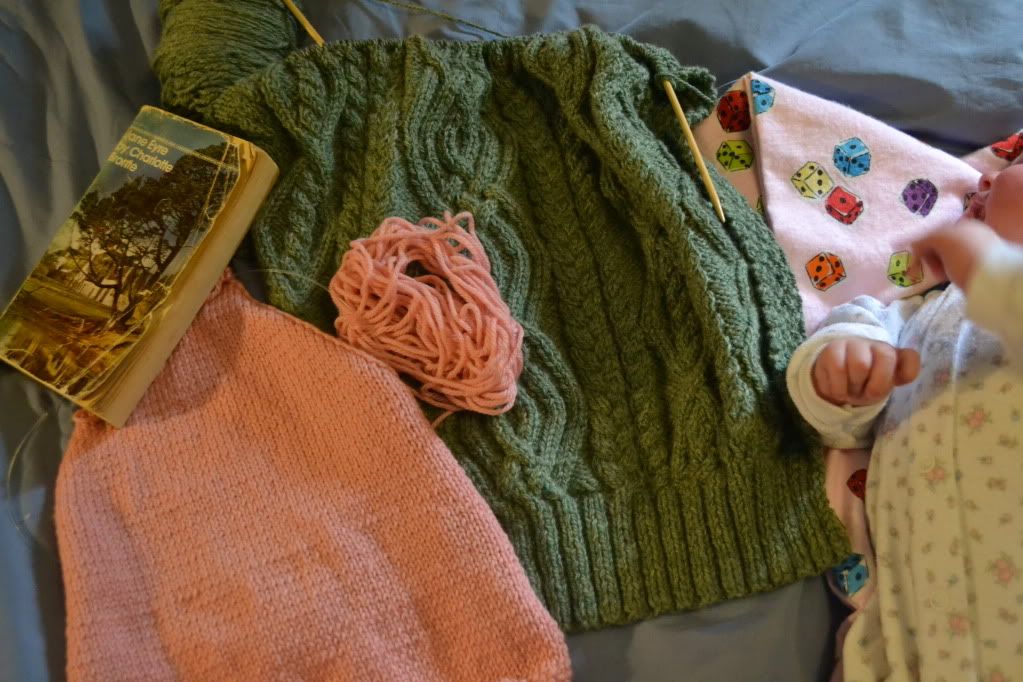 On the needles :: Still plugging away on
Mr. Wiedz's sweater
. I'm trying to get at least 2 rows done. Unfortunately, 2 rows a week is still going to put me getting this sweater done when he's like 80. I would love to do 2 rows a day as a goal, I'll try that this week. I got the back done on
#6's sweater
. I'm making the 6-12 month size in hopes that it is done around the same time (fall) that she'll need a sweater. I figured there wasn't a lot of sense in making a small size that she would hardly wear in the summer.
On the nightstand :: A couple of weeks ago I was given a gift for #6, in the gift was a book,
Jane Eyre counting board book
, another mom at the baseball field, where the gift was given, noticed the book and was interested. This got us talking about
Jane Eyre
. I had started the book but was so unimpressed, I found it difficult to continue with. That was at least a year ago. But this mom told me to keep trying. This book was on her list of top books and I love reading classics, I really wanted to read it. So I dug it out of the storage drawer I was keeping books and other things that were accumulating on my nightstand. I must have stopped right before I got to the point of it pulling me in because now I am in! I read while nursing mostly but I find myself thinking about the book and Jane and Mr. Rochester all day long. I am grateful to this mom for suggesting I give it another try and for the gift giver who has helped me start my #6 towards classics like Jane Eyre.