Joining Ginny, over at
small things
, again with yarn along. A single photo of a current knitting or crocheting project with a current read. I am really loving these posts, taking a moment to think about what and why I'm knitting or reading. I read...a lot. And I knit...not as much as I'd like but I do have 2-4 projects going either on the needles or in my brain.
I do love seeing what others are knitting and can always use some reading suggestions! Leave a comment so I can see what you're up to. And go over to
Ginny's
to see what others are up to.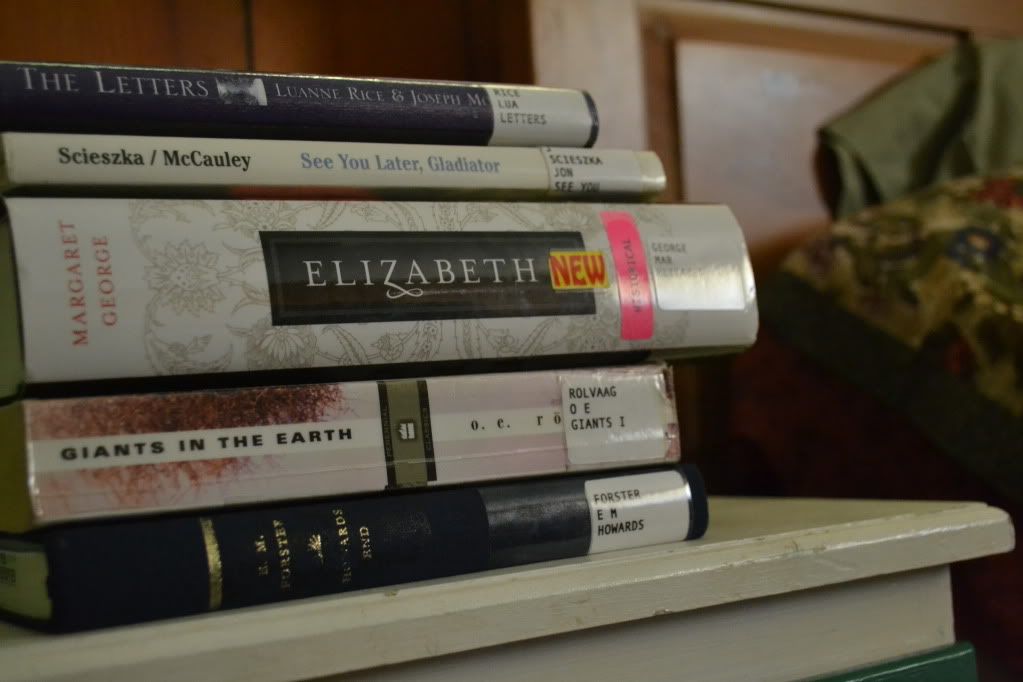 On the needles :: I've still got Mr. Wiedz's sweater and #2's sweater on the needles but absolutely no progress was made on either this week. I accidentally left my working needle for #2's sleeve at my parents so whenever I've wanted to pick that up, I couldn't (I'm trying to talk my mom into coming for the weekend and delivering it...keeping my fingers crossed). Mr. Wiedz's sweater just takes so much concentration, something I'm lacking right now...he's wanting it to be a fishing sweater for this fall, it's not looking good.
On the nightstand :: We made it to the library this week and I stocked up! Armed with my list from Yarn Along reviews and going to the main downtown branch I was able to find a lot of what I was looking for.
Howard's End
and
Giants in the Earth
were from that list.
Elizabeth I
was on the new shelf and since our
history
covers her this year I thought it would be fun mama-education.
See You Later, Gladiator
is our read-aloud these first couple weeks of school. We are finishing up the
ancient history
we didn't get to last year before we start the
middle ages
. I was looking for some books to read-aloud that might cross over...late Roman, fall of Rome, British rise kind of stuff. I also go another one I didn't put in the photograph that we'll try after See you Later,
The Capricorn Bracelet
.
The Letters
is what I just finished. It was good. Really good. Short read, easy to read a letter or two or really get lost and read many letters.
(Links above are affiliate links to Amazon.)