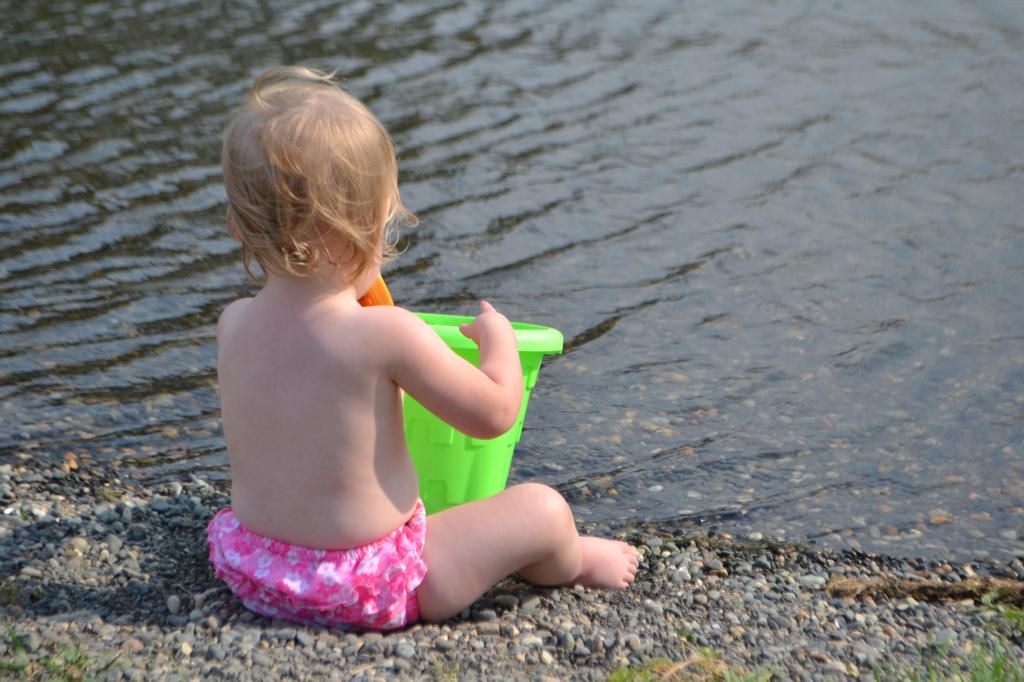 Ahhhhh. I bet anyone that has checked back in here in the past 4 months (!) has gotten real tired of looking at that
yarn along
picture. Here's a cute baby playing at the water's edge to look at instead.
We spent a couple of nights last week camping with my extended family. So fun! Such good memory building. 19 cousins to play in the water all day with. Shared dinners and running around during a wind storm trying to save camp. Good times.
But it is good to be back. Good to get the last of summer wrapped up. Our list of "before the rain starts" just seems to get longer even when we are able to get a project done from it. My school preparations are going good. I'm still needing to get some of my books (I'm so jealous of moms who know what they're going to use and have it ready in the spring - I'm still trying to survive the current year in the spring...I never know what I'm going to do or use for the next year yet!). I now know what I want to use and where to get it and I'm starting to get a look for how our days are going to go. This prep stuff is my favorite, wish I had days of uninterrupted time to get it done.
I'm hoping for more hands-on this year. Pull out the
activity book
for history more often, make some great arts or crafts, read good books and
enjoy them
with each other. And I'm hoping to
record
it
on the blog again this year.
So here's to the last weeks of summer. To getting those "before it rains" projects marked off the list and to keeping the fun in school prep.