Last week we rowed
ABC Bunny
which I thought went well but apparently #3 didn't enjoy too much as today when I asked him his favorite part of the book he said when you close the book, which is the last page. I didn't go too crazy with extras and stuff which I think was best since I wasn't too into it all last week. It was nice to read the sweet book each day and answer #4's questions each time...the same questions each day :).
Not too much seat work :
We did our narration exercise and the
ABC Bunny activity card
I found on the Internet. #3 and I had some trouble with the ABC activity until I sat right with him and figured out each card. In the end I think it was good practice for identifying his letters and recognizing the letter sounds. #4 really liked the whole exercise.
ABC Floor Puzzle :
The boys spent the morning before soccer putting together our ABC Floor Puzzle. I was really needing to do other things but wasn't sure if they'd be able to do it alone. But they were. #3 was so proud of himself!
ABC Hunt :
I saw this on delightful learning and thought it was cute but a little crazy. Not only did I figure I'd be more interested then they were, I'd have to put it all away too. Instead I made it a group activity after circle time. The big kids helped bring up the level of excitement. I just had to hang out at the table with #5 directing placement of some items and snap a picture. And they put it all away without much complaining!
Signing Time
:
I borrowed a few Signing Time DVDs from the library and the boys watched the
ABC Signs
and
My First Signs
after we read the book some of the mornings. The little intro song really sticks in your head and we'd all be singing it most of the day.
ABC Phonics Song :
I've tried making sure we do the ABC phonics song at circle time each morning but I'm really hit or miss with that...maybe if I wrote these things down. We learned the phonics/signing song with #1 was in kindergarten and #2 learned it when he went through kindergarten at our old school. I'm thinking it'd be great for #3 and #4 with learning their letter sounds. A work in progress to be sure.
Knitted Bunnies
: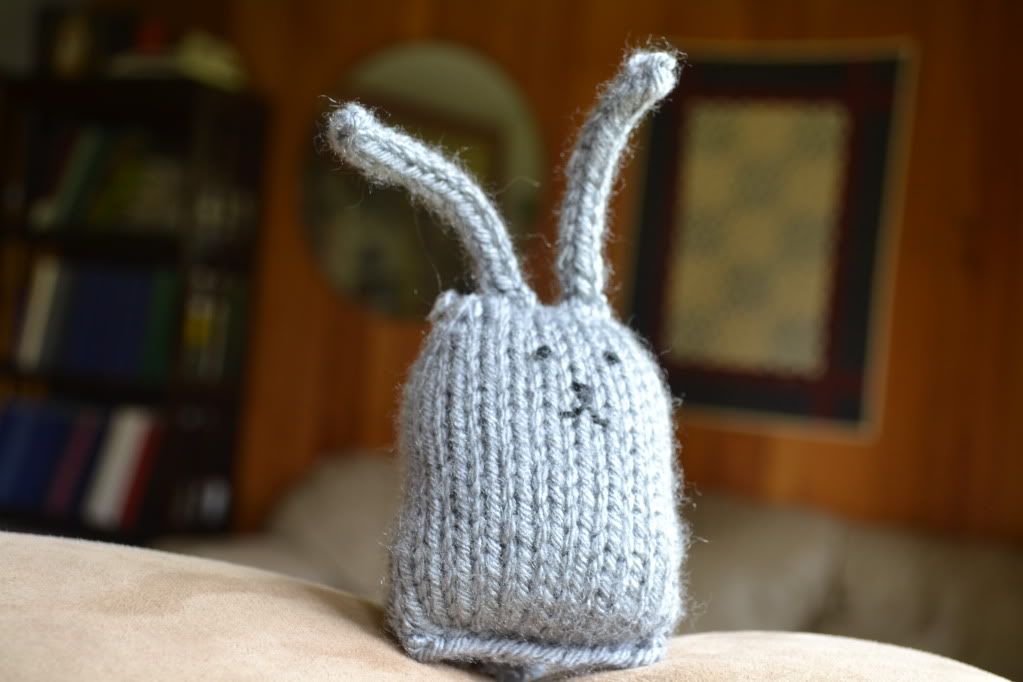 I've got the bunnies 85% complete...I keep adding it to the bottom of my to-do list. They are real cute and I'll add them here when they do get handed out. Nicely they also go with our next book:
Goodnight Moon.
Ha! I didn't get them done for the next row or many more after that! I finished them in April! And handed them out unceremoniously the day after we finished rowing The Little Rabbit. But they turned out SO stinking cute!
Links:
knitted bunnies
(nice button on the right side for the pattern)
ABC Bunny activity cards
Rag letters
(didn't get these done but I love them...maybe when I figure out how to add a few hours to the day)