Joining Ginny, over at small things, again with yarn along. A single photo of a current knitting or crocheting project with a current read. I am really loving these posts, taking a moment to think about what and why I'm knitting or reading. I read...a lot. And I knit...not as much as I'd like but I do have 2-4 projects going either on the needles or in my brain. Leave a comment to share your yarn along.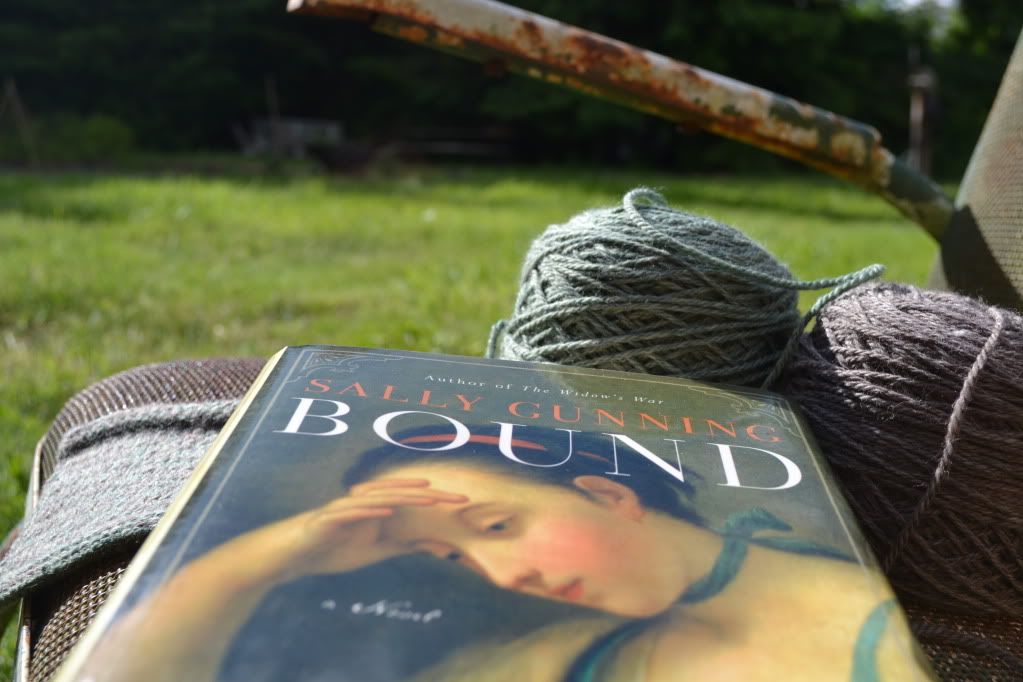 On the needles :: Well, actually, not on the needles yet, but it is the next project. A sweater for Mr. Wiedz. I've printed off
these
instructions. I'm going to measure him and a sweater he loves tonight and try to cast on. He wants dropped sleeves and a weird collar (I've got the instructions for the collar) so once I'm done with a endless amount of stockinette stitch I'll have to worry about that...any advice? The yarn (once I find my tag I'll post what I got), we picked up at a
local yarn store
. We only got a skein of each with the intention of getting more as the budget and sweater need. Not normally a wise choice with dye lots and the like but I'm holding the two strands together, which gives it a really nice mint chocolate chip ice cream look and will hopefully make no issue with dye lots!
On the nightstand :: Just finished Sally Gunning's
Bound
. Oh. My. So good! Not disappointed. A little disturbing at the beginning but so well written. I'm already missing the characters. I've started
Harry Potter 7
again in anticipation of the movie release later this summer. Last time I did this I was disappointed with the movie but I'm holding out hope that I won't sit through the whole thing muttering how unlike the book it is.
BTW: over at small things, yesterday's
post
about the hats coming in for the Japan project, the top picture with a note about 48 hats coming from one woman...that was my MOM. She was so excited to see her hats in blogland. Mom has set a goal to crochet a hat a day this year, she was already on target to make her goal and now with a broken ankle to keep her in bed with her foot up, she's sure to surpass it!