Coming back from a little baby break and joining
Ginny
again this week.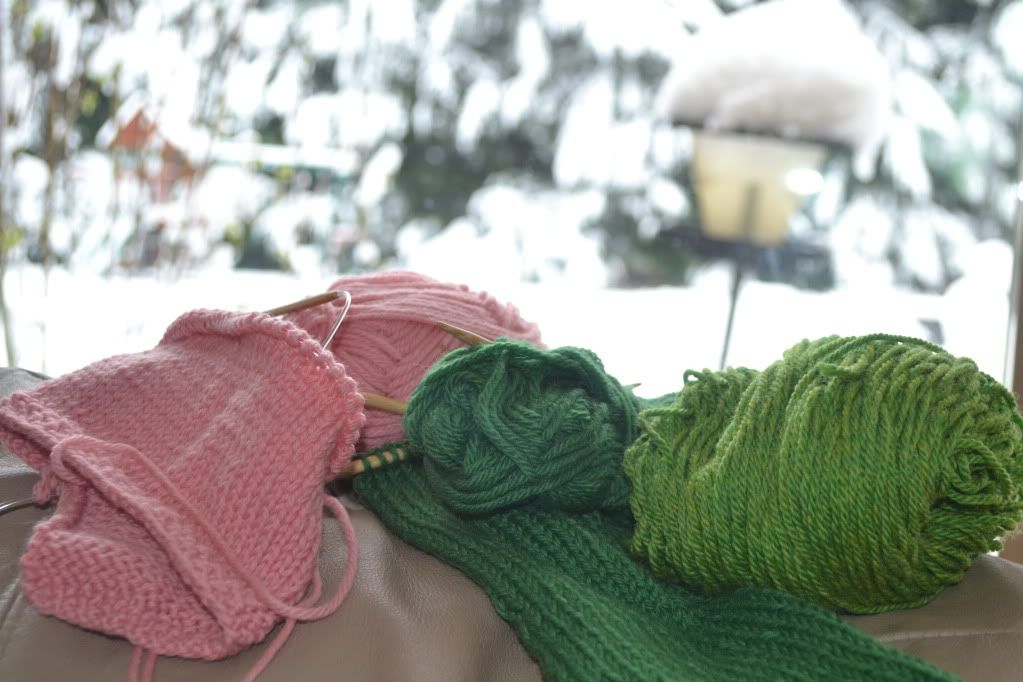 Yes, that is snow you see in the background. We woke up this morning to about 3 inches. 3 inches is crazy for anytime of year in our part of the valley. In the second half of March...crazy, crazy-town! And on a day that we were all ready to start some kind of normal...we've had a new baby, a stomach virus and guests for almost the whole month of March. We are ready for some semblance of our old routine or at least the beginnings of a new routine. But it seems that we are destined for at least one more day of relaxing, hot chocolate, perhaps a little too much t.v. and list making/routine dreaming.
Back to the yarn along...
On the needles :: I've finished the sleeve for #3's sweater. Actually I finished it before #6 was born, then #5 came by and took out all the needles. I blame the child, Mr. Wiedz blames the knitter who doesn't seem to keep her knitting out of the reach of said 2 year old. I've got all the needles slipped back into place and nothing was lost, I'll be sure everything is up and high out of reach from now on. I'm out of yarn to continue working on that project...next month I'll order more (those
KnitPick
skeins are much smaller than I'm accustomed to).
Now that I know #6 is a girl (!) I cast on the
Birdy Cardigan
(ravelry
link
) in a sweet pink color. I was unwilling to cast on a project like a sweater for one gender or another knowing it would take me so long until I knew which one I would get to use. Of course I'm not getting loads of knitting time but I will say that the newborn stage does accommodate knitting while holding better than some later, wiggly ages.
I put that other green in the photo because I did knit up a pair of booties with it to give at a baby shower last weekend. I love the
Pom-Pom Booties
pattern from
Vintage Knits for Modern Babies
and it knits up so quick. I made a pair out of the same yarn before #6 was born and it took me one evening. Because of my new time constraints I gave myself all day to knit the second pair and was able to get them done.
On the nightstand :: I haven't picked up a book in weeks. I was trying to read a new book from the church library but didn't get into it enough to last into these blurry-eyed, not-getting-enough-sleep-as-it-is to stay up reading.