Joining Ginny, over at
small things
, again with yarn along. A single photo of a current knitting or crocheting project with a current read. I am really loving these posts, taking a moment to think about what and why I'm knitting or reading. I read...a lot. And I knit...not as much as I'd like but I do have 2-4 projects going either on the needles or in my brain. Leave a comment to share your yarn along.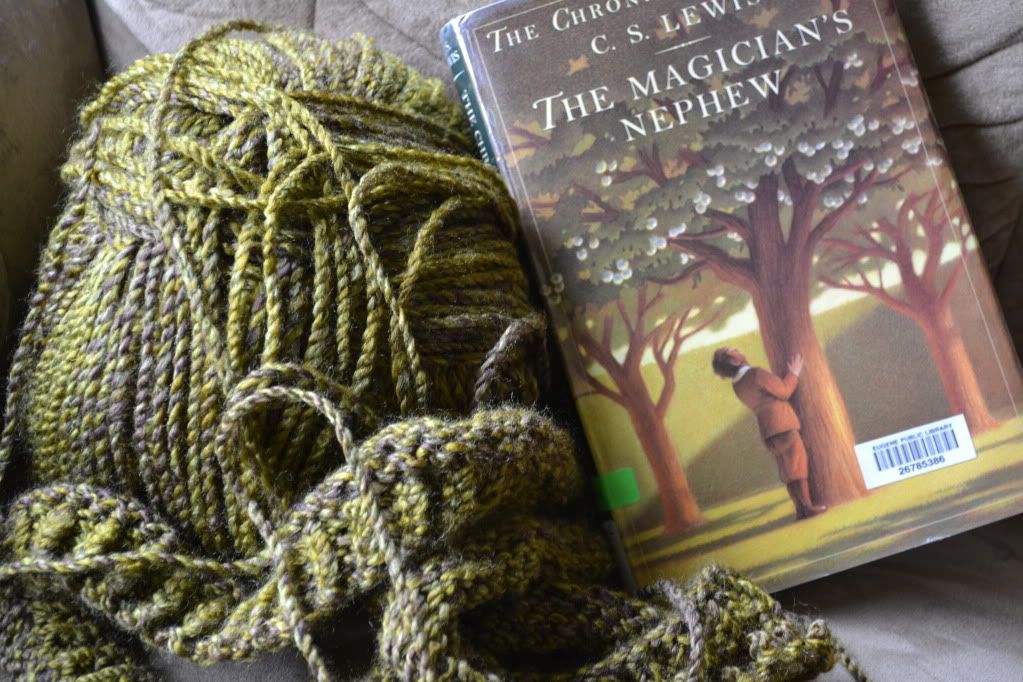 On (or off as the case is today) :: While on vacation, Las Vegas with my mother...absolutely wonderful, I cast on what was supposed to be a vest or sweater for #3. He's been patiently waiting for a vest though I think I'd like to make a sweater more. This yarn was the only green yarn my mother had. I cast on according to the pattern though I knew the yarn was "chunkier" and the needles bigger than called for. Pulled it over #3's head today and knew right away that it wouldn't work. Pulled it off the needles...could have fit Mr. Wiedz! Going to try again, using the right yarn and needles, pattern from
More Last Minute Knitted Gifts
.
On the nightstand ::
The Magician's Nephew
by C.S. Lewis. 2nd to last book in the Chronicles of Narnia series. This one has been harder for me to read. Not sure why. I almost gave it up but I have just entered a great scene and I am over half way over so at this point it would be silly not to finish.