Joining
Ginny
, over at small things, again with
yarn along
. A single photo of a current knitting or crocheting project with a current read. I am really loving these posts, taking a moment to think about what and why I'm knitting or reading. I read...a lot. And I knit...not as much as I'd like but I do have 2-4 projects going either on the needles or in my brain.
I do love seeing what others are knitting and can always use some reading suggestions! Leave a comment so I can see what you're up to. And go over to Ginny's to see what others are up to.
I'm totally cheating but I have four projects to show off that are all COMPLETED!!!!!!!!
First up is Mr. Wiedz's hat! After the tearing out and the small needles and the small yarn I thought I would never finish this but I did! And right in time...the tempatures around here have taken a serious dive and Mr. Wiedz has sported his new hat everyday to keep his ears and head warm! Yay!
Ravelry notes
here
.
Next up is #2's sweater! Also a huge undertaking! As I got closer and closer if #2 would see me working on it he would comment that he was so eager to wear it. Such a sweetie! And as soon as it was off the needles it was on his person. A little itchy but blocking helped and he's loving it! Yay! Success #2!
I actually finished this puerperium a month or two ago but
just
now got buttons put on and got photographed. I found this pattern thanks to yarn along and had just found out I was pregnant with #6. Perfect timing. It was awesome to knit. And though I followed the pattern I think it turned out longer than ones I've seen and potentially longer than a baby needs but I still love it. I did not find out the gender of #6 but as you can see I have high hopes that we are expecting a little girl to finish our family :)
Ravelry notes
here
.
When my cousin Scary was here last weekend she mentioned that her little SoySauce had grown out of the hat that I had given her when he was born...oh, that just can't be. I had this chunky yarn laying around from making a Gnomey Hat for #5 and cast on the same beginning but didn't do the rows at the top. Still pointy but I made sure I had enough yarn. Love chunky yarn...and number 10 needles...knit up in two days!
Ravelry notes
here
.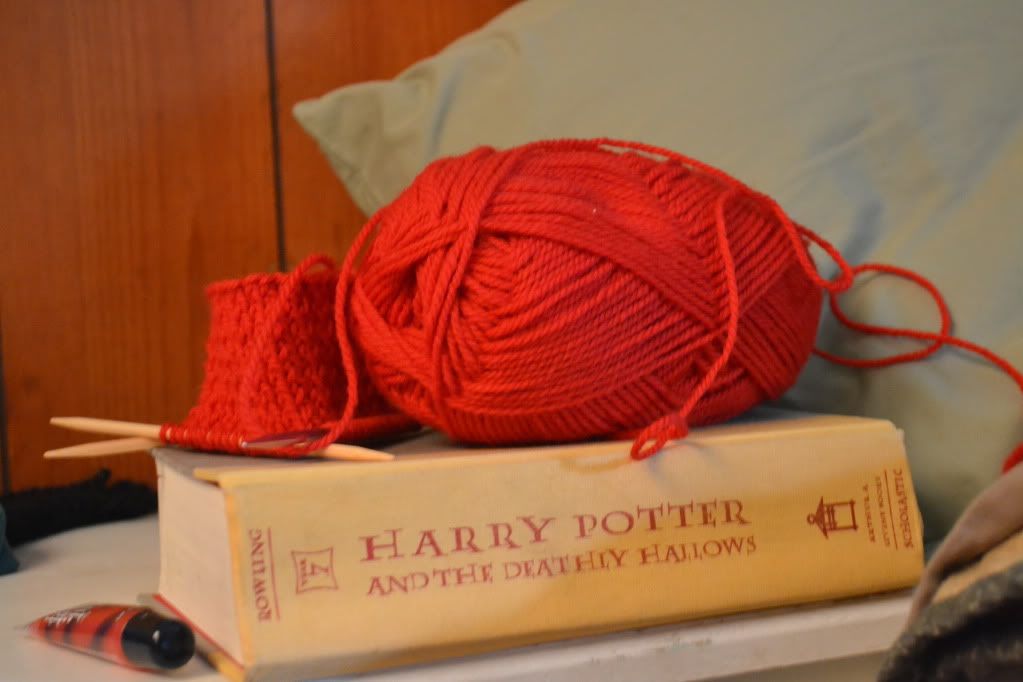 And now...
On the needles :: a Christmas present. Can't say for who. Can't say what it is. But I've started. Ravelry notes
here
.
On the nightstand :: I could only take "John Adams" for so long before I had to move on to something a little more...fiction. #2 is reading Harry Potter book 2 and it got me in the mood for my own HP adventure. So, Harry Potter book 7. Since I've read it so many times now I can just read a chapter (or not even a whole chapter) a night and be just fine.