I have documented a little bit of my Christmas jammie sewing journey,
here
and
here
(scroll down to reason #5), are some examples. So this year I tried again.
I bought fabric with a coupon so I got nearly all the fabric I needed for twenty-some dollars and I bought the fabric early, like November or the first week of December. Then it sat in my sewing room waiting for inspiration. That insiration didn't come until it was two days before Christmas and my budget didn't allow for going out and purchasing jammies.
Necessity is the mother of invention...or in this case inspiration.
I got up really early one morning and was able to cut out four sets of pants before anyone else woke up. The flannel wasn't as wide as I was thinking so I couldn't fit the 5th pair of pants onto any of my fabric. That night, after a trip to the fabric store where there was no more red flannel of any kind and cutting out the fifth pair, I was able to sew up all the pairs, except waistbands. I texted my mother, who was staying at my sisters for a couple of days before heading here that next afternoon, asking if she'd be so awesome as to do the waistbands for me - I'm awful at waistbands. She said yes, so the next evening while I finished my own to-do list she sat and finished all the pants for me. Yay! Mom!
Though, she was worried that there wouldn't be enough rise. I even followed the pattern. I cut it out straight for #1 (it's a pattern we've used for her before), used the same pattern for #2 just with shorter legs, and folded the pattern down to the correct markings for #3 and #4. I used a current pair of pants for #5's. I was bummed that even though I had used a pattern there was still an issue. I really wanted this to be the year the pants just *fit*!
She added contrasting fabric for a waistband so that the pants wouldn't lose any of the rise by all the folding over.
The next day, before I wrapped them, I decided I just couldn't let the pants be 5-7 inches too long again this year. I measured everyone then during naptime I went out to the sewing room and measured inseams, cutting off the extra fabric and sewing the cuff back on the new bottom.
I wrapped them up. Placed them under the tree and have the best fitting Christmas jammies I've ever had. I say it every year, but I really plan to start earlier next year...so much easier to take care of things when you're not under the gun!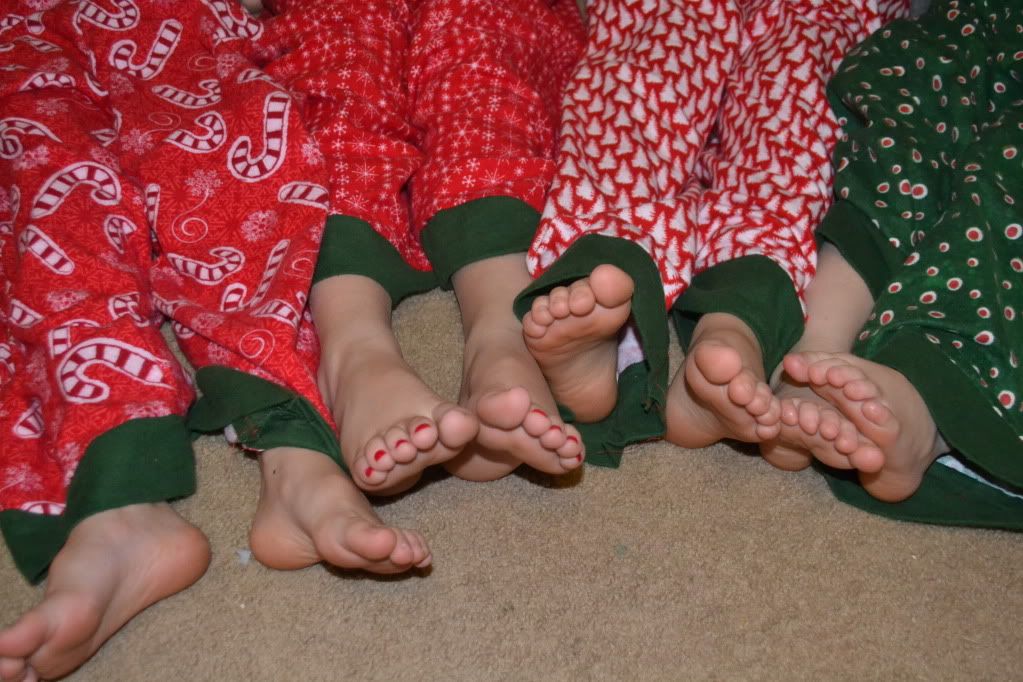 #5 refused to be in the picture.