Joining Ginny, over at
small things
, again with yarn along. A single photo of a current knitting or crocheting project with a current read. I am really loving these posts, taking a moment to think about what and why I'm knitting or reading. I read...a lot. And I knit...not as much as I'd like but I do have 2-4 projects going either on the needles or in my brain.
I do love seeing what others are knitting and can always use some reading suggestions! Leave a comment so I can see what you're up to. And go over to Ginny's to see what others are up to.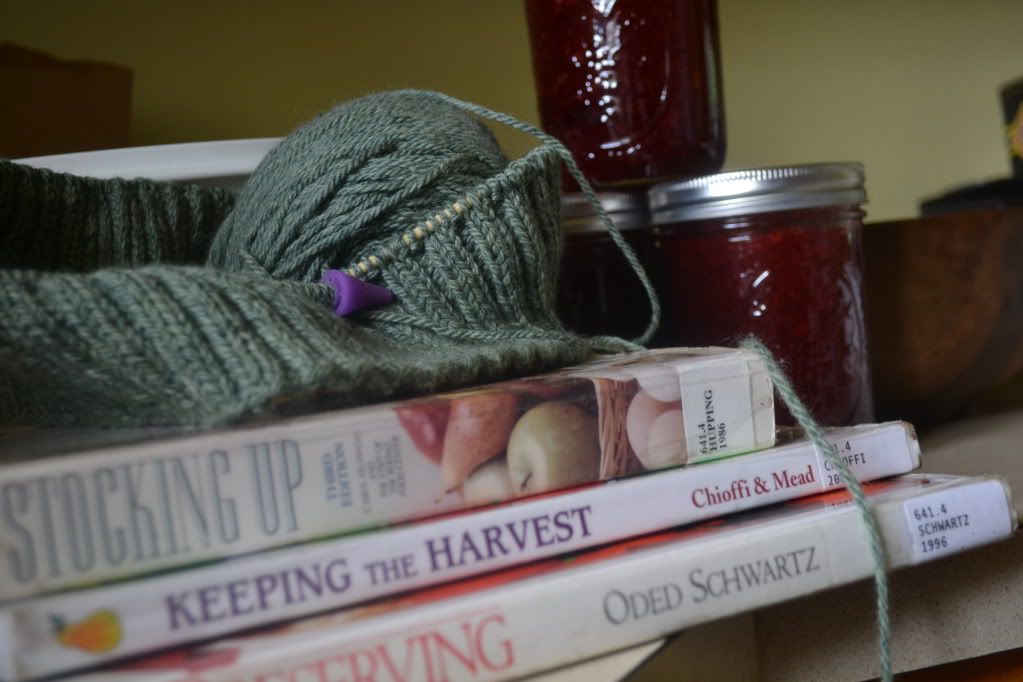 On the needles: Mr. Wiedz's sweater will be on the needles for a long time. Nearly finished with the ribbing. I've got the pattern photocopied so I can mark each stitch off as I complete it and have the stitch abbreviations sitting right in front of me. For the swatch I was constantly having to turn the pages over and losing my place, hoping I can find a solution without going crazy.
On the nightstand: Time for thinking about and planning canning season. I have a love/hate relationship with canning. The strawberry jam is done...that I am immensely please with. We ran out in February and it is the only jam some of us eat and others favorite. With my mother (her broken ankle kept her at the table) and my mother in law we got 38 1/2 pints done!!! No running out this year!!!! I'd seen some great canning books out in blogland but these are a few good looking ones my library had.
Preserving the Harvest
looks great and I'm putting a hold on it.
Stocking Up
,
Keeping the Harvest
and
Preserving
will all help to get me in the mood.