Joining Ginny, over at
small things
, again with yarn along. A single photo of a current knitting or crocheting project with a current read. I am really loving these posts, taking a moment to think about what and why I'm knitting or reading. I read...a lot. And I knit...not as much as I'd like but I do have 2-4 projects going either on the needles or in my brain.
I do love seeing what others are knitting and can always use some reading suggestions! Leave a comment so I can see what you're up to. And go over to
Ginny's
to see what others are up to.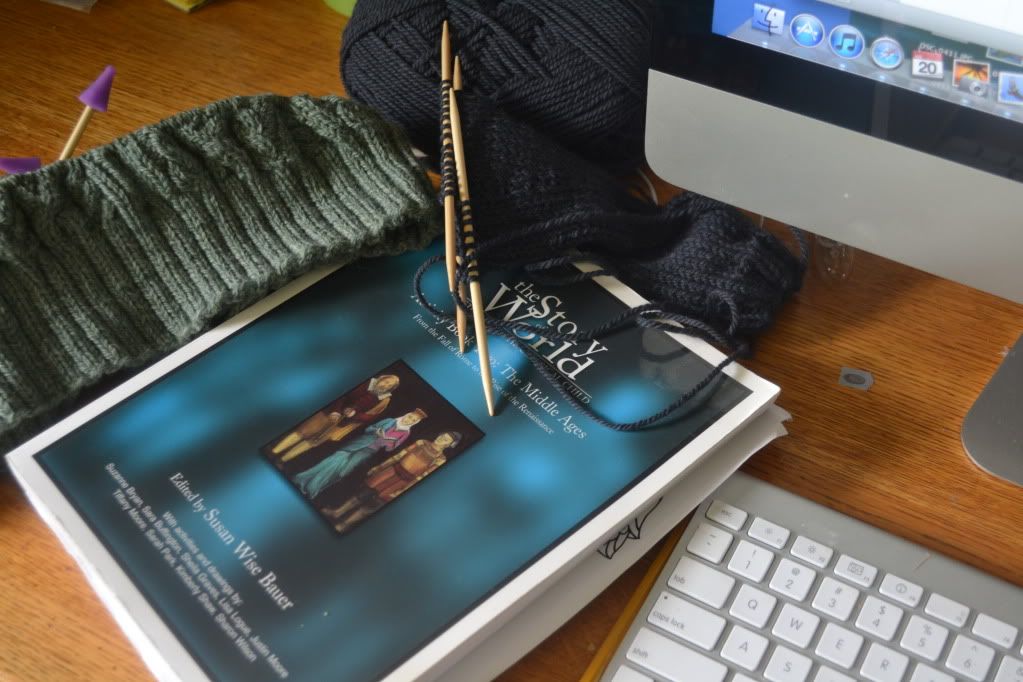 On the needles :: Mr. Wiedz's sweater. The pattern is starting to emerge which is totally exciting and it's the kind of pattern that only works when you've done the row before correctly. So I'm really excited that I'm starting to see a pattern which means I'm doing it RIGHT! Sometimes though I am needing some mindless knitting, Mr. Wiedz's sweater does not fit into this category, so I picked up #2's sweater and started working on the sleeves. Some miles of stockinette stitch is just what I need sometimes to balance Mr. Wiedz's pattern.
On the nightstand :: I go through phases with my reading, and right now is just not a reading time. I've checked out a few books from the library but I can't get into them. I have been doing a lot of prep work for history and school for the fall though. I'm almost done planning history lessons and now I get to plug everything into the calendar and match #3's
FIAR
books and other plans.