Joining
Ginny
, over at small things, again with
yarn along
. A single photo of a current knitting or crocheting project with a current read. I am really loving these posts, taking a moment to think about what and why I'm knitting or reading. I read...a lot. And I knit...not as much as I'd like but I do have 2-4 projects going either on the needles or in my brain.
I do love seeing what others are knitting and can always use some reading suggestions! Leave a comment so I can see what you're up to. And go over to Ginny's to see what others are up to.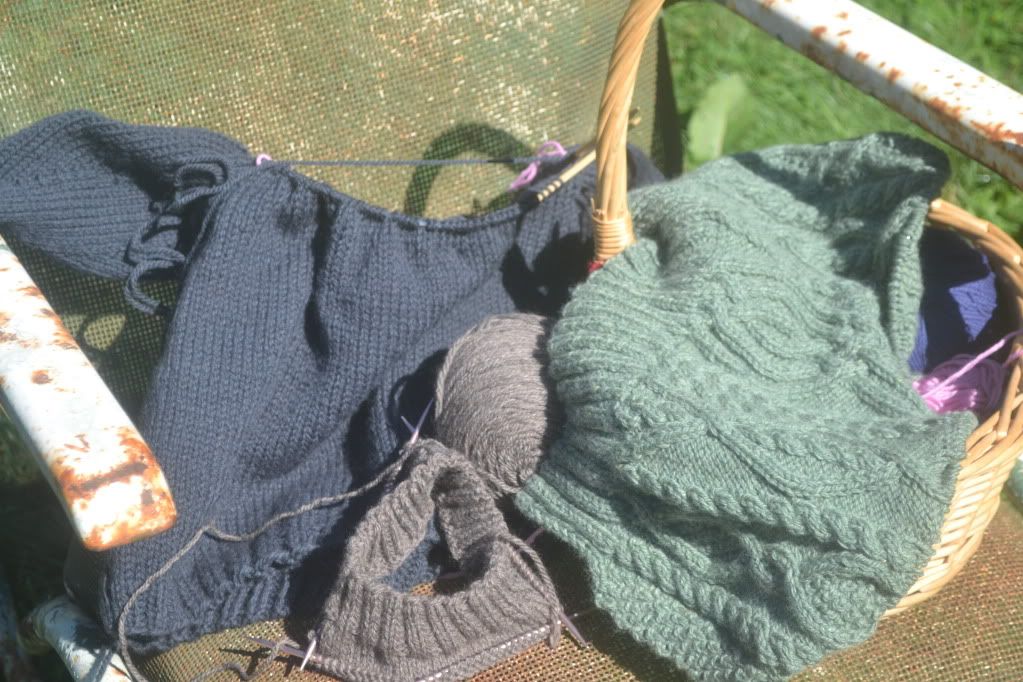 On the needles :: Mr. Wiedz's sweater will be on the needles for a long time. I know it won't be done any time soon and now Mr. Wiedz knows it too, so that has given me a little freedom to move on to some other projects. Projects I can finish. First up, a hat for Mr. Wiedz. Since his sweater won't be done for this fishing season he asked for a hat that could be for this fishing season. In the spring when Mr. Wiedz picked out his sweater yarn he choose two colors we intended to hold together. Since the pattern wouldn't allow that he settled on just the green for the sweater so I have a skein of the brown wool to use for his hat. He was thinking it would be done in a day or two, but small yarn and small needles make this a little longer of a project. But not as long as the sweater.
I've also made huge progress on #2's sweater, the fishing sweater that will get done. Last Saturday during the Duck game and while at Cousin's weekend at the beach I got the second sleeve finished and both sleeves attached to the body! My first ever attempt. I think all went well. I'm trying to work as fast as I can as I really want this sweater to get finished up. I love it and he loves it and we can't wait for him to put it on!
On the nightstand :: I finished "Giants in the Earth" last night. I was determined because I could tell I only had pages left. But I was disappointed with the way it ended. I was telling #1 about it this morning. In what I told her she blamed "him" for the way it ended but I blame "her", the "her" that was so intriguing in the rest of the book. "She" disappointed me in the end.
I don't have another book waiting to be started. We don't live inside city limits here so we have to pay a large fee for library cards which we haven't done yet. I've got some canning, knitting, schooling, sleeping, sewing, birthday planning to do anyway.