Joining Ginny, over at small things, again with yarn along. A single photo of a current knitting or crocheting project with a current read. I am really loving these posts, taking a moment to think about what and why I'm knitting or reading. I read...a lot. And I knit...not as much as I'd like but I do have 2-4 projects going either on the needles or in my brain.
I do love seeing what others are knitting and can always use some reading suggestions! Leave a comment so I can see what you're up to. And go over to Ginny's to see what others are up to.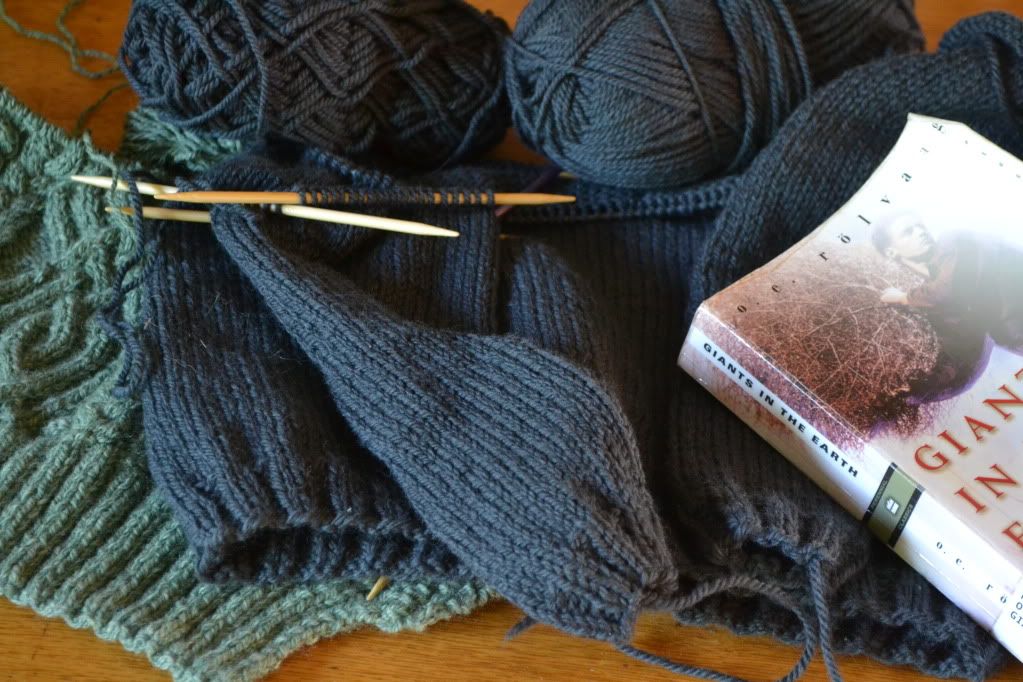 On the needles :: I'm still working on Mr. Wiedz's sweater but since it is a known fact now that this sweater will not be done for this fishing season I'm taking the opportunity to knit on some other projects. It's looking like #2 WILL get a sweater in time for fishing season this year. I'm almost finished with the second sleeve and beginning to understand the general feeling I've always heard about second sleeves, they really do seem to take FOREVER! I'm holding out hope that the second sleeve will be finished up in the next evening or so and I can finish this sweater. I've also worked up a whole project that I haven't put up any pictures of...I'll be sharing that as soon as it's done blocking.
On the nightstand :: Giants in the Earth. Still. I'm really enjoying it but have NO time to read other than those before sleep moments and those don't last long either. The book is extremely overdue at the library but I've just got to finish and I have no renewals left!