Our first "row" this year was a perfect way to start and a fun book. How to Make an Apple Pie and See the World was loved by my boys even when our "row" lasted more than a week. Most of the times that we sat down to read it they would "read" it to me - unheard of with these boys and shows me how much they enjoyed the book.
I used a planning sheet made and shared by allofakindfamily and loved it. Even though I didn't do my "weeks" like I orginally planned I could just go through the planned days... And I have a new method of storing and compliling my books and plans and supplies. I'll have to write a whole post about that but it also worked just like I hoped it would and I'm happy I have it all in one place.
Seatwork ::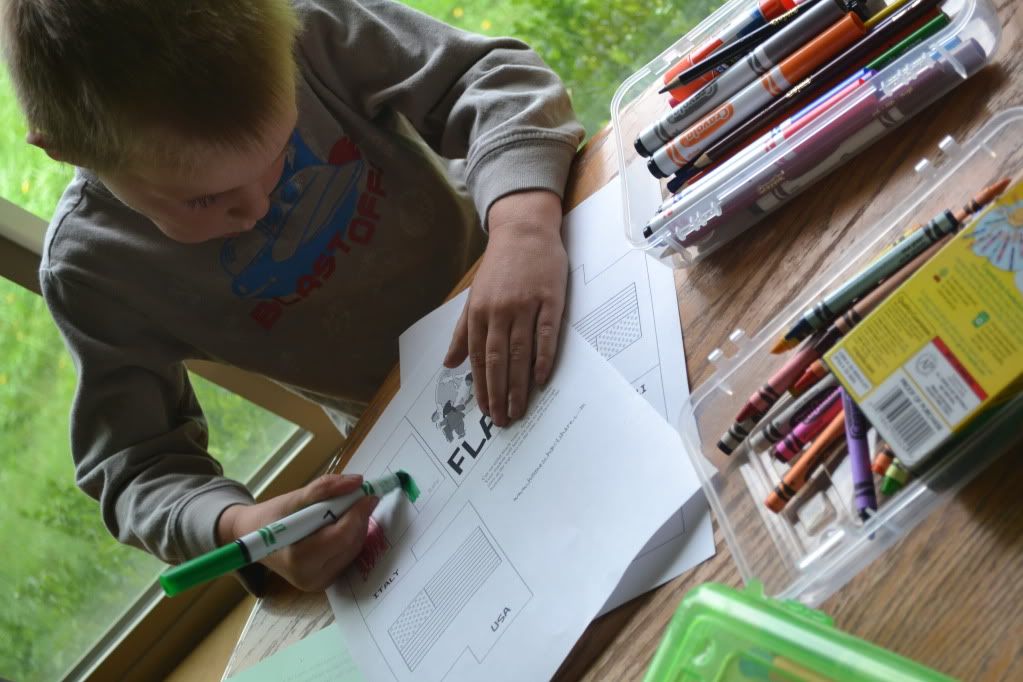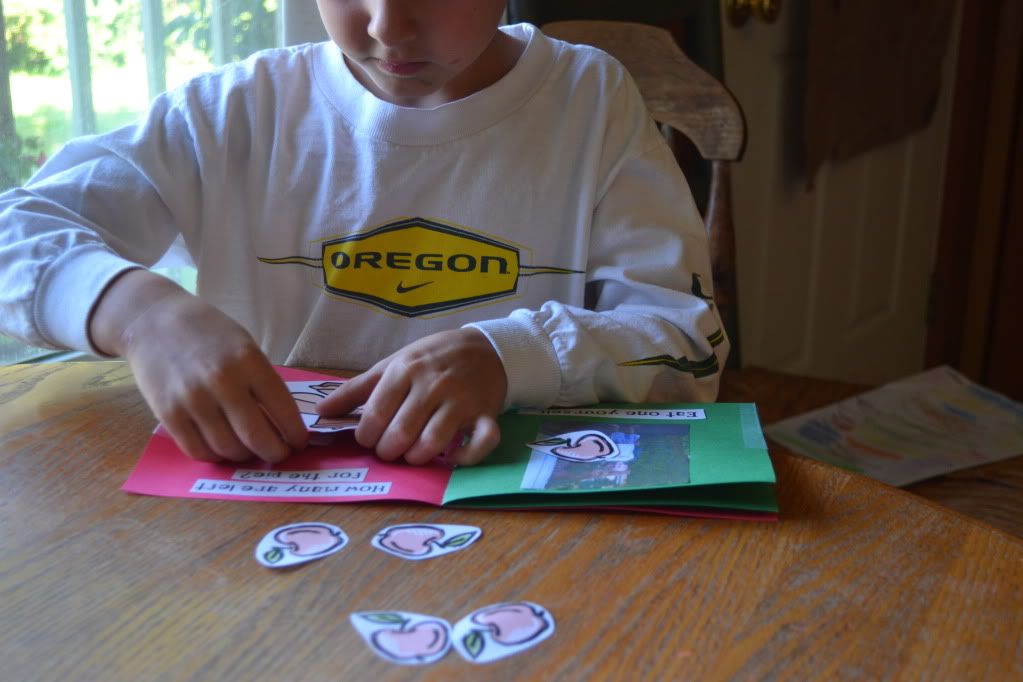 Fun Stuff ::
We evaporated salt water in the sun for a few days and noticed how that changed. We also watched a YouTube video on salt which was fun.
And we painted with apples. #4's looks like a large swirl of orange paint, but #3's is a great page of distinct apple shapes.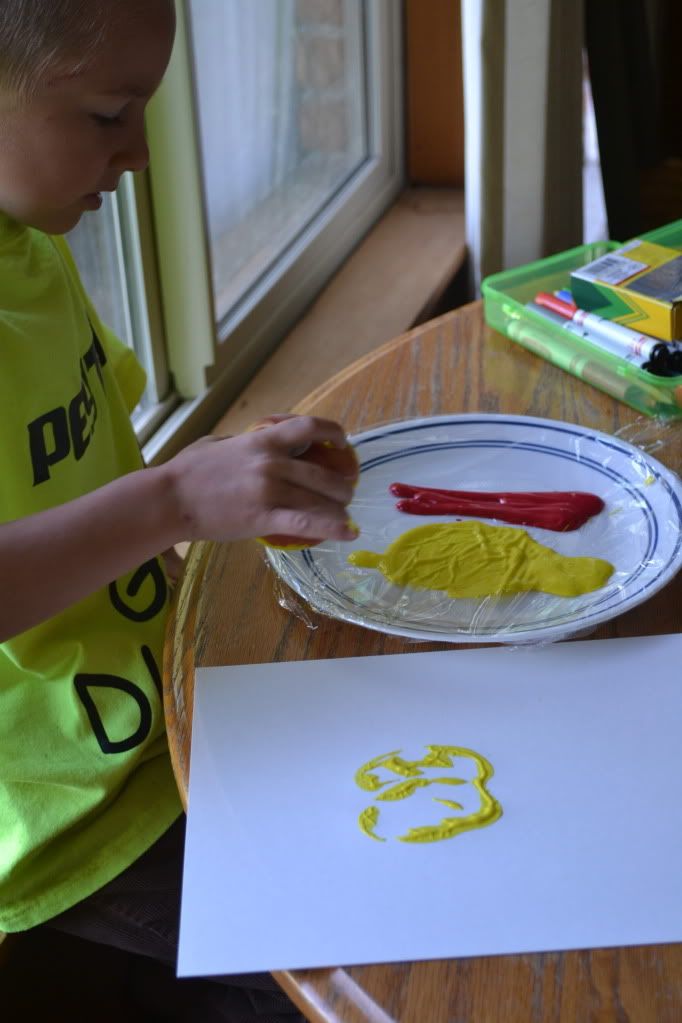 Field Trip ::
To quote the book: "Wait a minute. Aren't you forgetting something? WHAT ABOUT THE APPLES? Have the pilot drop you off in Vermont." Well, we couldn't go to Vermont but Oregon grows some pretty great apples and just 10 minutes down the road is an awesome fruit orchard with among many other offerings, many varieties of apples. Mr. Wiedz even joined us for this field trip and we enjoyed a family afternoon among the trees. Though I blame Mr. Wiedz for the fact that I intended to pick a basket full for a pie and a crisp and some eating, but we left with 50 pounds. I guess I'll be putting up some apple products...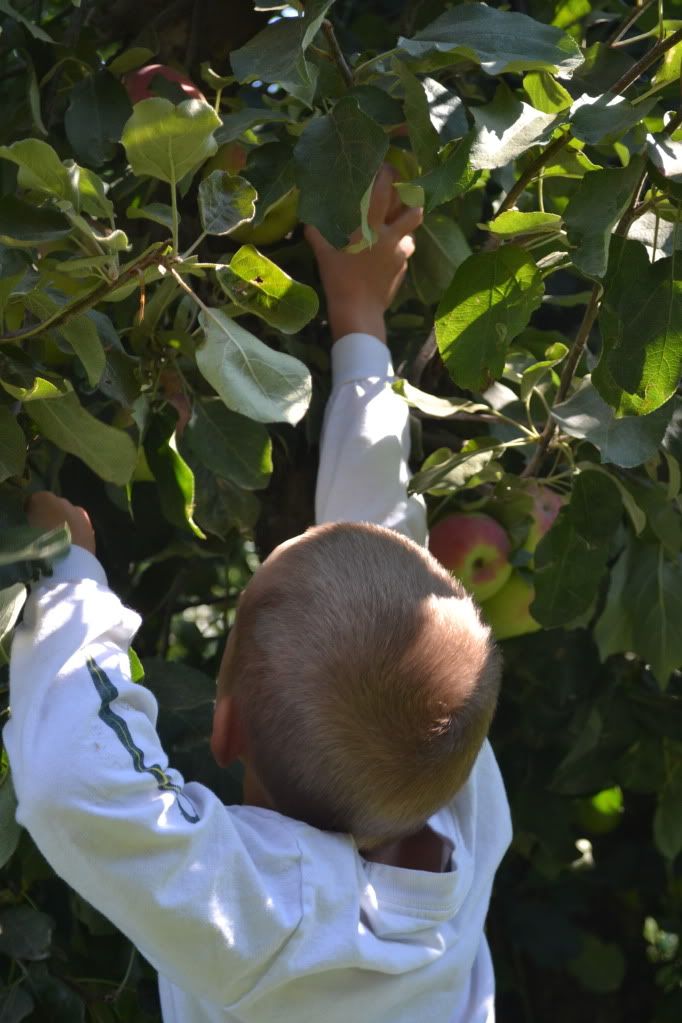 "Pick eight rosy apples...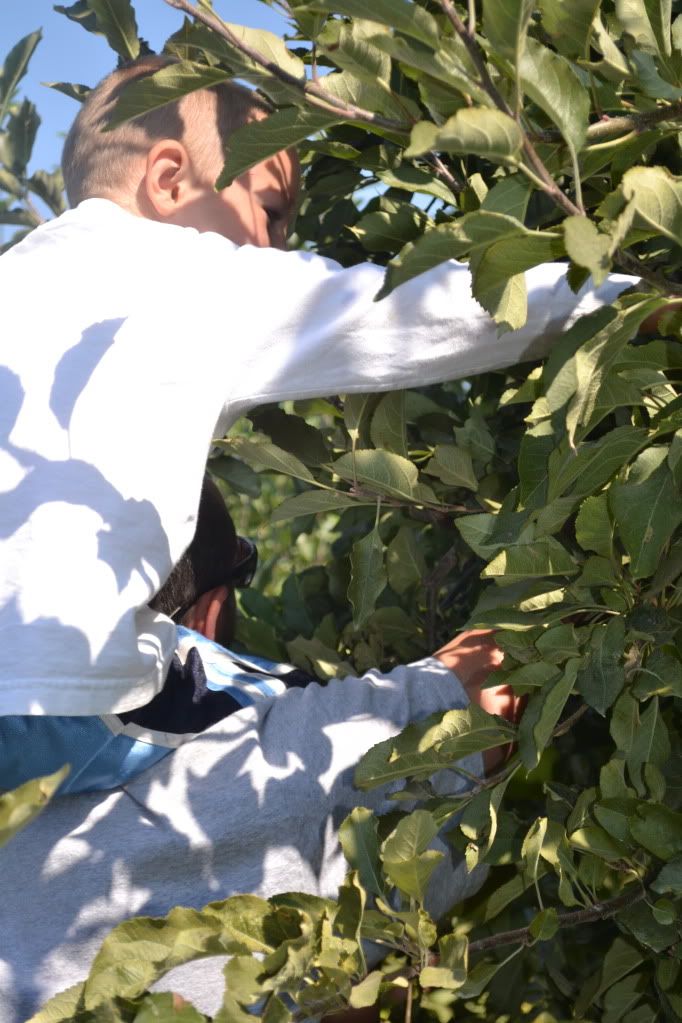 ...from the top of the tree."
Bringing it all together ::
The last day of our "row" we brought it all together to make our own apple pie. I'm glad I had visited the chiropractor the day before, I don't think I would have survived otherwise. We washed, measured, sliced, counted, stirred, blended, and ate our finishing product.

In the story, the market is still closed so the girl and her friends eat their pie plain but we decided that just wouldn't do.
I am reminded a lot how much I love this style of learning with my younger boys. I'm so happy I found Five In A Row and look forward to the rest of the year with it.
Other School Stuff ::
This year #3 is in kindergarten so he also has a
handwriting book
,
math book
, is
working on reading
and joins his big siblings for
history
and
science
. Another thing that I love about FIAR is that I can do kindergarten for #3 and preschool for #4 at the same time! Along those lines Jolanthe over at
homeschoolcreations
shared a
READ! BUILD! WRITE! mat
that I printed off and started using with this "row". I still have some tweaking to do, I need to get bigger letters - like refrigerator magnet letters and I just got it laminated so he can do the WRITE! part now, but I think it'll be a big hit. I made my own vocabulary cards based on sight words he is working on and words from the books we are rowing.
Links ::
Homeschool Share
Delightful Learning
- she posted about her "row" of this book the same day we finished ours but since I get so much FIAR inspiration from her I had to link to her awesome "row" of it.
AllofaKindFamily
- more inspiration! I'm so excited she's "ahead" of me in the books that I plan on rowing this year...so many great ideas here!
Homeschool Creations
- great preschool packs, inspiration and the READ! BUILD! WRITE! mats