We rowed The Glorious Flight this week. When I read it myself before the week started I wasn't too impressed and I didn't really see how the boys would sit through it every day for a week. But I was pleasantly surprised...though it was no How To Make An Apple Pie.
It is the story of Louis Bleroit, his family, his perseverance, and his glorious flight across the English Channel. Of course this book gives the perfect opportunity to talk about airplanes but it was a jumping off place to talk about a lot of things.
Seatwork
::
Homeschool Share provided me with so many great printables to use this week. I had found a couple that I liked at first glance but when I saw Delightful Learnings scrapbook of this row I had to go back and add some more. I'm glad I did.
This book had a lot of math applications. First up and the most fun, ordinal numbers. Ordinal numbers really call for something to be 1st, 2nd and 3rd. I pulled out a favorite toy that hasn't seen a lot of use lately and we held races. We talked about which one was first, second and third. The camera came in handy to call those close ones. We also spent a couple days on the dreaded Roman numerals. I've never been good with Roman numerals. #2 is really getting it with the way Horizons teaches it and I'm learning right along with him! (That's #2 up in the first picture helping #3 write out Roman numerals in a flip book we made.) I'm liking the early introduction to some of these concepts so later when the math books hit it again they aren't looking blankly at it, wondering what to do.
Perspective ::
The FIAR manual has a lesson about perspective in the illustrations of the book. I thought it would be OVER his head but he really took to it and understood what I was trying to tell him and what the lesson was about. I let him use my camera (gasp!) with some supervision and had him take pictures from different perspectives. Since these pictures don't mean anything without the lesson and without the background I wanted to include them in my sharing of the row so I'd remember the activity...it was one of his favorites.
:: looking at something - the grape across the yard ::
:: looking down at something ::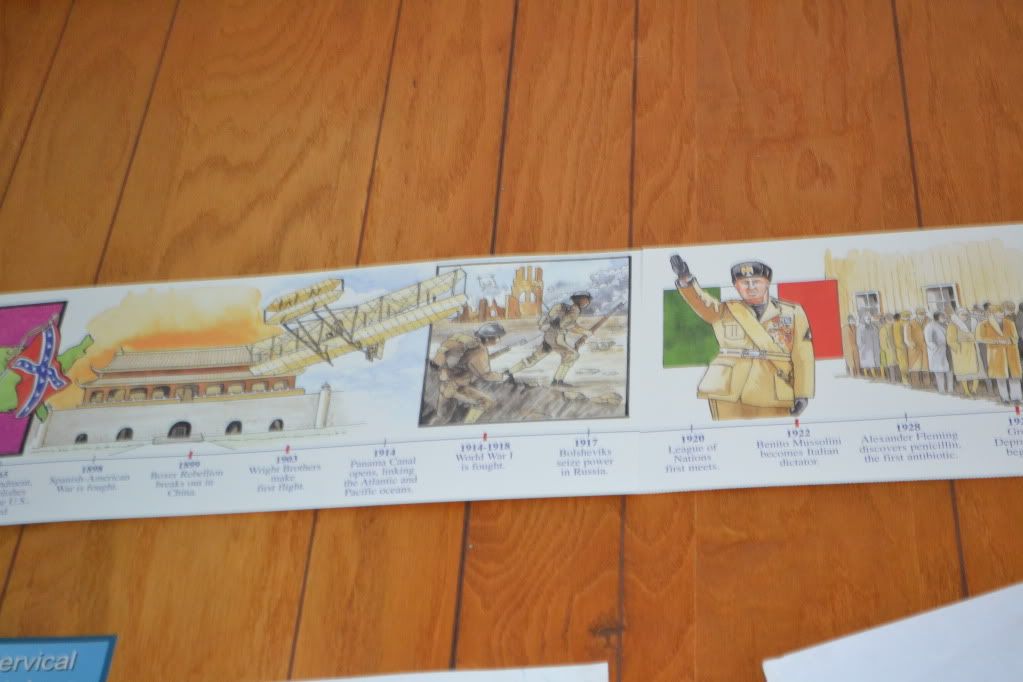 :: looking up at something - the timeline on the school room wall ::
Field Trip ::
What row of an airplane book would be complete without a trip to the local airport? Luckily Mr. Wiedz was at home starting his new lessons with the big kids (more on that to come, I'm sure) and #5 was asleep so I seized that moment and took just #3 and #4 on a field trip. We stood at the fence and watched a couple of planes land and one take off. It was pretty cool. We saw the baggage guy bring a load of bags to the terminal which sparked its own conversation. We walked through the airport, saw the baggage area, the restaurant, the gift shop and the security area. We talked about not being able to go through the rest of the airport unless we had a ticket to go on a plane. We have a small airport in our area so it was a quick but nice field trip.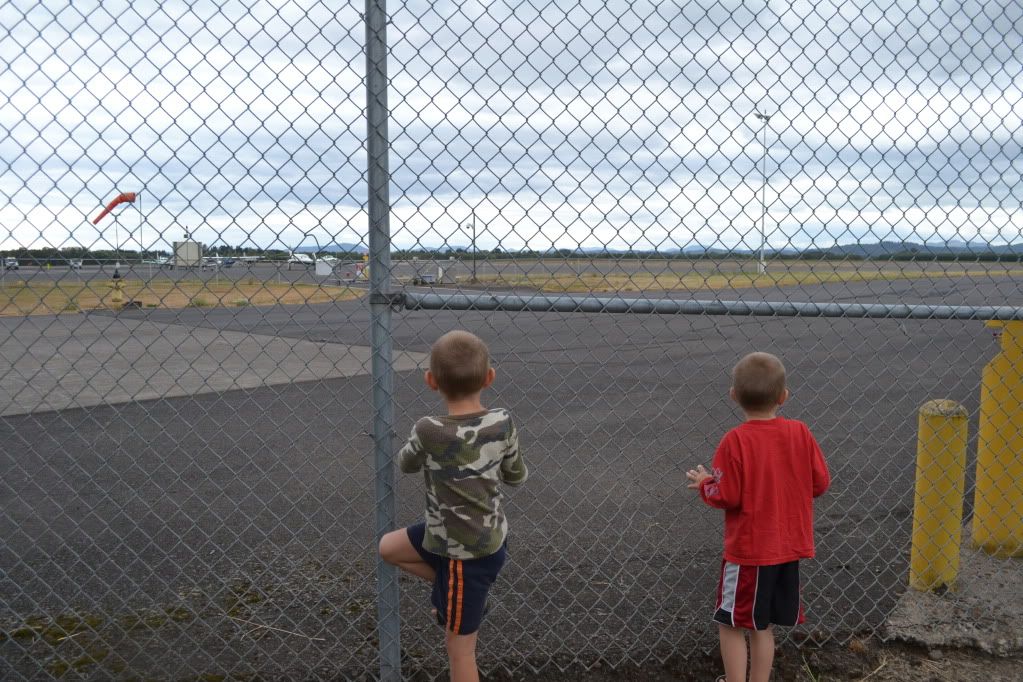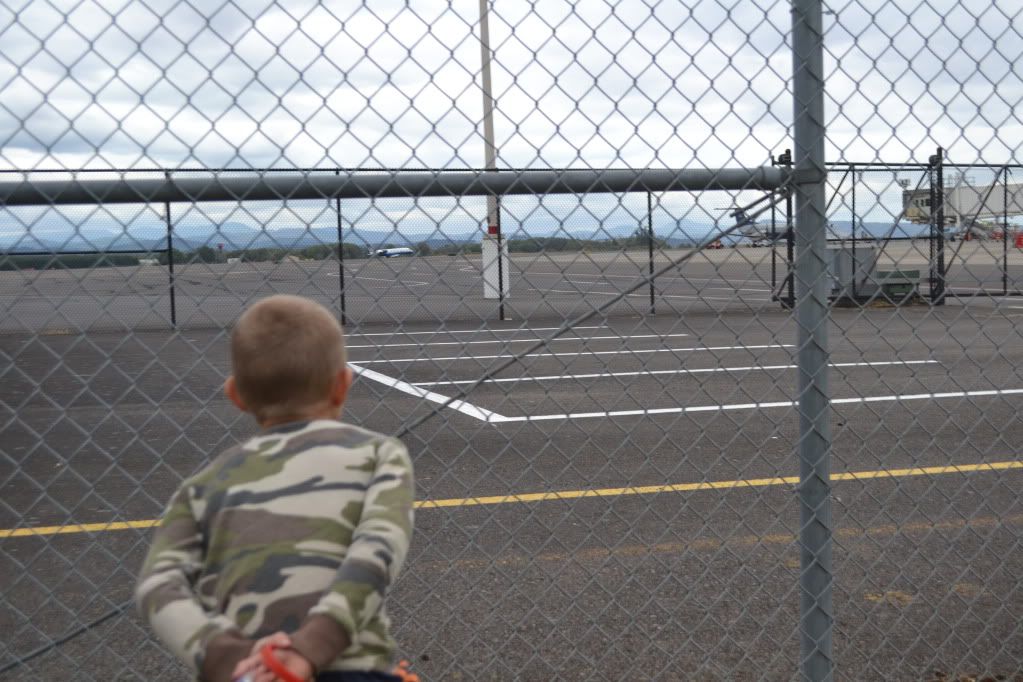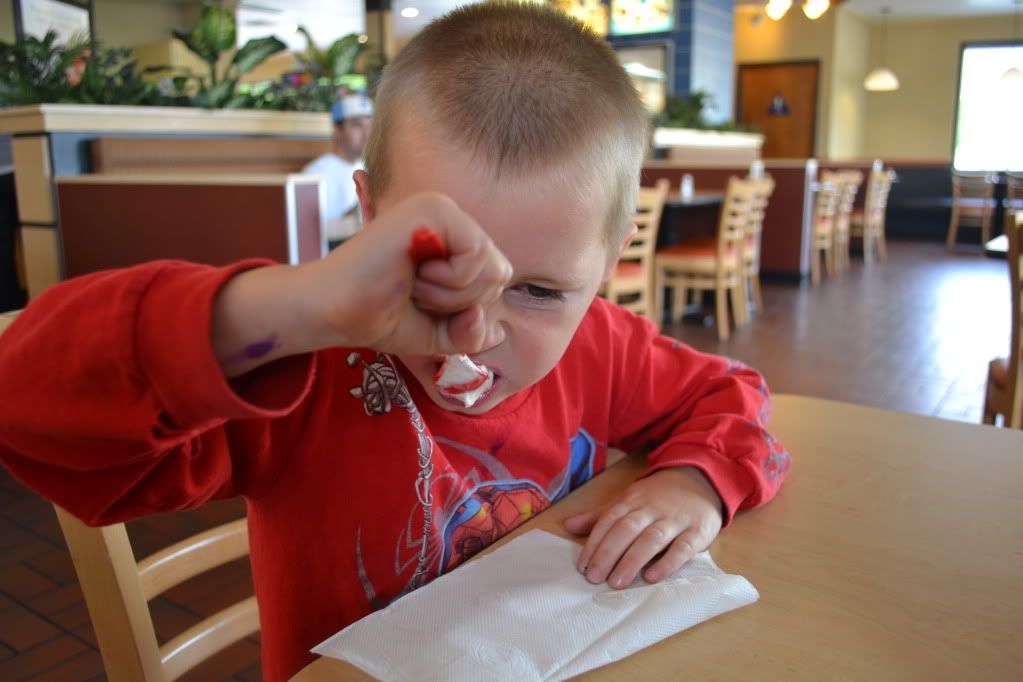 What field trip doesn't include a special snack...plus I had just two with me, that's a reason for ice cream in my book.
Special Snack ::
I found a link from the homeschool share website about a plane snack and filed it right away! Had to use this awesome idea! Other than my kids had never had a twinkie before and didn't really care for them it was a hit. The look on #3's face when he saw it all put together was awesome.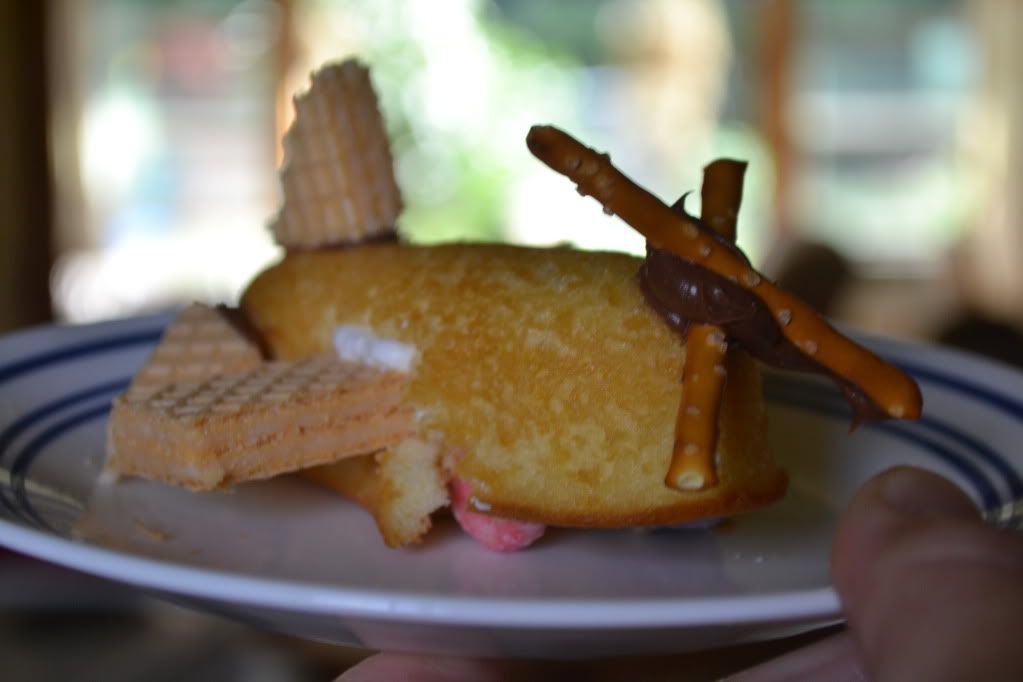 Flying over the English Channel ::
Of course we had to make paper airplanes with this book. And we still have our kiddie pool out (acting as a landing pool for the slide with the hose attached) so we flew our planes over the "English Channel". We had many successes, but every plane made it into the drink eventually. This was a hit of an activity. There were many squeals and diving around hoping their plane would make it across. Fun stuff!
Daedalus and Icarus Video ::
I couldn't resist this when I saw it was made with legos. I fit in a lesson, which I'm sure was more on with the big kids who love all the Greek mythology and my #1 who loves the Percy Jackson series, which has a nice Daedalus section in one of the books.
Links ::
Creekside Learning
- inspiration and a link to the Roman Numerals project
Delightful Learning
- as always, TONS of inspiration
Homeschool Share
- printables, seatwork, booklets and mini books
Teaching Stars
- Daedalus video idea
I'm really bummed that my Amazon linky tool isn't working...I will add the book cover when I can figure out where the Amazon thing went.