Joining Ginny, over at small things, again with yarn along. A single photo of a current knitting or crocheting project with a current read. I am really loving these posts, taking a moment to think about what and why I'm knitting or reading. I read...a lot. And I knit...not as much as I'd like but I do have 2-4 projects going either on the needles or in my brain. Leave a comment to share your yarn along.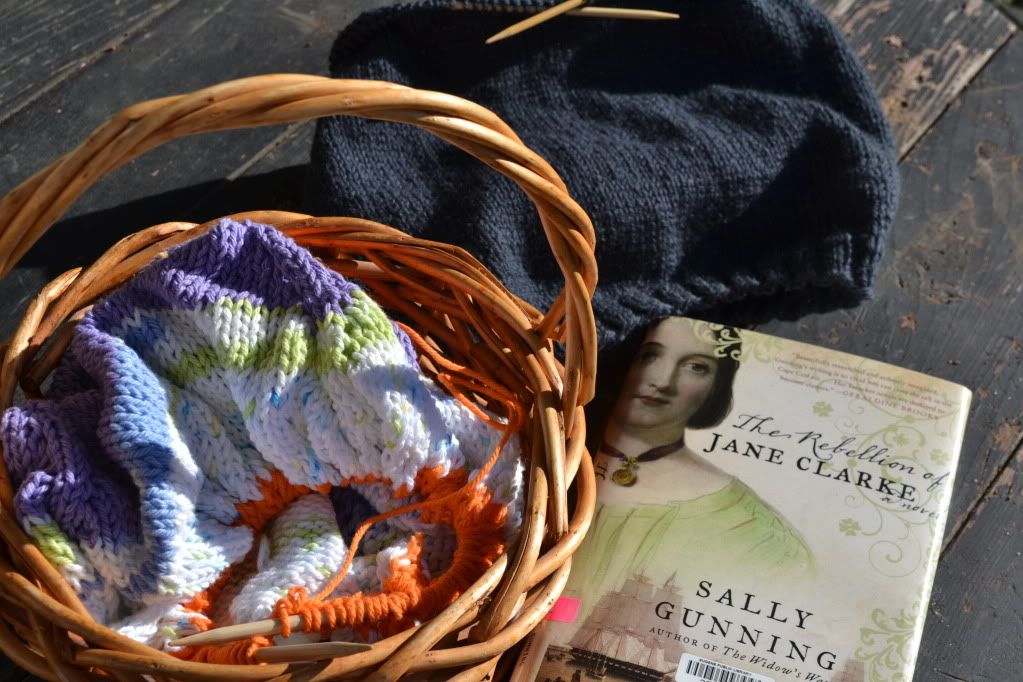 I'm a day late with my yarn along this week but with no Mr. Wiedz my mom has come to spend the week with us. She's been awesome being an extra set of hands, running with me to practice, games, doing dishes, running errands, visiting and basically just being a cool mom and grandma! Yea for Mom!
But I have been knitting...I'm still working on both the produce bag whenever I'm sitting in the car for an extra minute or at the ball field. I'm done with all the increasing that makes the bottom so I'm on the lovely, no-thought-required K2Tog, YO row then K all row of the body. I think I'm going to like the finished product. And I'm still working on #2's sweater. He's completely decided on a sweater now instead of a vest. I'm going to try a percentage pattern, found a great tutorial here.
On the nightstand :: The Rebellion of Jane Clarke
by Sally Gunning. I love historical fiction and this book is a great one!