Joining
Ginny
, over at small things, again with
yarn along
. A single photo of a current knitting or crocheting project with a current read. I am really loving these posts, taking a moment to think about what and why I'm knitting or reading. I read...a lot. And I knit...not as much as I'd like but I do have 2-4 projects going either on the needles or in my brain.
I do love seeing what others are knitting and can always use some reading suggestions! Leave a comment so I can see what you're up to. And go over to Ginny's to see what others are up to.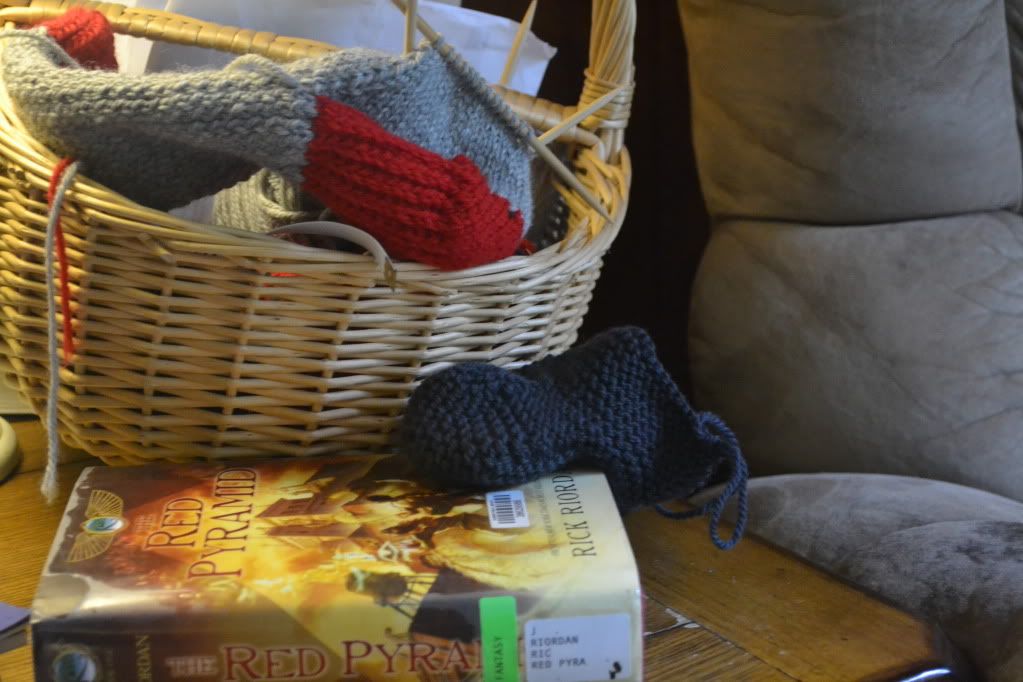 On the needles :: I tried so much to get halfway done with this Christmas present, but last night as I was knitting along it just didn't *look* right. I had no other choice but to have the receipent (who was sitting across the room and had totally already figured out what was going on) try it on. Sure enough, my decreases didn't decrease enough (Mr. Wiedz has really narrow feet) so I had to rip back to the gusset shaping so I could decrease more. I'm hoping for some good English/knitting time and Math/knitting time and even some evening/knitting time. Maybe half of this Christmas present will be done tonight. Ravelry
link
.
I also cast on
these
little booties. I have never made booties for any of my baby's before but now that I've started, I just can't stop! Using left over Paton's 100% wool in grey that I used for #2's sweater. I'm not sure I've got the right yarn or the right needles but the first one seems to have worked out. Ravelry
link
.
I spent a fair amount of time working on both projects while my family celebrated Christmas this past weekend. N Family Early Christmas has become a treasured family tradition. This year was no exception. I traded my time between taking care of any number of the 18 children there, making Chex Mix and knitting. A great weekend!
On the nightstand :: I'm reading
The Red Pyramid
right now and really enjoying it. I'd been told it wasn't as good as the
Percy Jackson
series that Rick Riordian has written and while I agree it is still a great book. I'm enjoying it. A sign of a good book for me is one that cannot stay on the nightstand. If I start to bring it around the house with me to read as I'm doing other things or to read instead of doing the other things then it must be a good book.