Joining
Ginny
, over at small things, again with
yarn along
. A single photo of a current knitting or crocheting project with a current read. I am really loving these posts, taking a moment to think about what and why I'm knitting or reading. I read...a lot. And I knit...not as much as I'd like but I do have 2-4 projects going either on the needles or in my brain.
I do love seeing what others are knitting and can always use some reading suggestions! Leave a comment so I can see what you're up to. And go over to Ginny's to see what others are up to.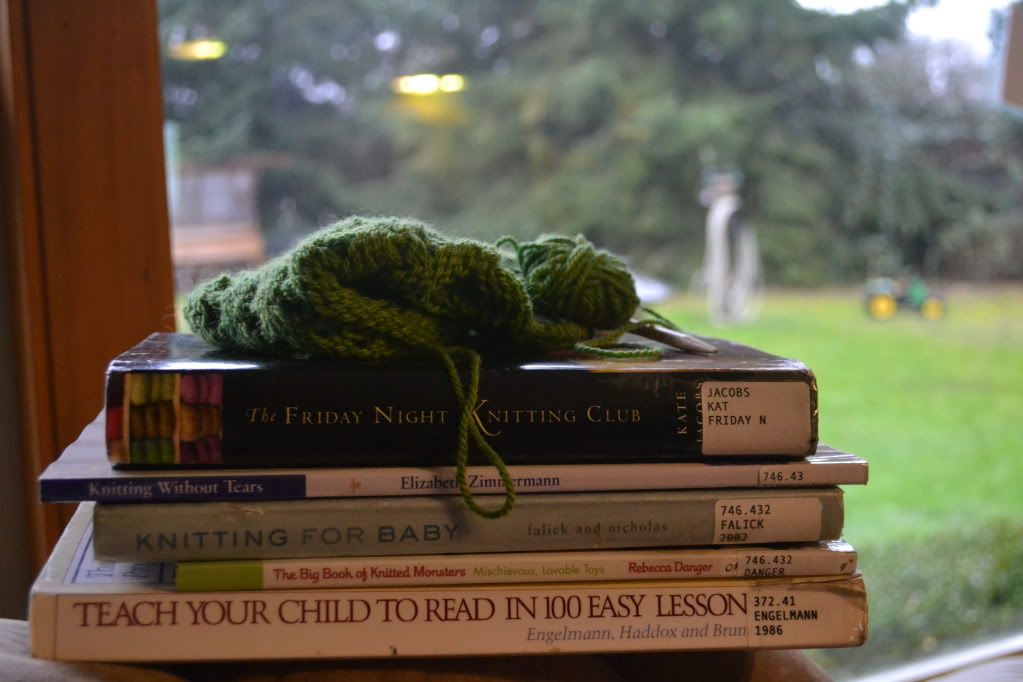 On the needles :: I got some beautiful yarn for Christmas! Just what I asked for! Mr. Wiedz did fantastic with
Shepherd's Wool
in lime green. He said it was for me to make me something...first up a hat. I cast on just after Christmas and I should be able to finish the decreases after I'm done posting here. I'm using
Soulemama's
favorite hat pattern (it's under her tutorials tab - no direct link) with a minor modification due to user error. The picture doesn't show how beautiful the yarn is...dark, rainy day here. I'm thinking a cowl and even dreaming of a cardigan out of this yarn, although with lofty plans like that I'd be headed back to the yarn shop.
On the nightstand :: I got to go to the library all by myself yesterday! Such a treat! I had put a request on
Teach Your Child to Read in 100 Easy Lessons
and yesterday was the last day to pick it up. Since I was there I got to go to the floors where the adult fiction and non-fiction are kept (our main library is 3 levels with children's materials on the ground floor, huffing the library basket and 5 children up - even by elevator - to the other floors where there are NO children and many quiet adults is not something I do very often). So I got a whole stack of books. First up is
The Friday Night Knitting Club
, I'd heard of these books but had never looked and I am in the mood for something fun to read and add a twist of knitting...sounds good. I started it last night and already I'm enjoying the characters. I also browsed the knitting section and found,
Knitting Without Tears
and
Knitting for Baby
(some inspiration for the next two months) and
The Big Book of Knitted Monsters
(I'm thinking a birthday present for a soon-to-be 2 year old).